Prompt: ​"What a character holding a blue object is thinking right now" in under 100 words.

The orb glowed brighter as she neared it. She hesitantly reached out for the majestic light, wonder engulfing her every thought. The energy it gave off coursed through her veins. It riled up her blood; the cyan glow filled her pupils. Opening the device, she removed a wire, and the blue light abruptly went out. Her computer is fully charged.
​
Powered by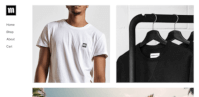 Create your own unique website with customizable templates.